Looking for a professional teleprompter in Austria? MGL delivers a rental-setup for multicam shootings with up to 3 prompters. As this is an universal system, you can mount any photo- or videocamera on it. The screen size is 15″. The weight of one prompter is about 6 kg. So you'll need a tripod, that can carry the camera, batteries, lens and the prompter.
Use your own computer and software or rent our system and choose between the Windows based Apps FlipQ, ProPrompter or PromptPuppy.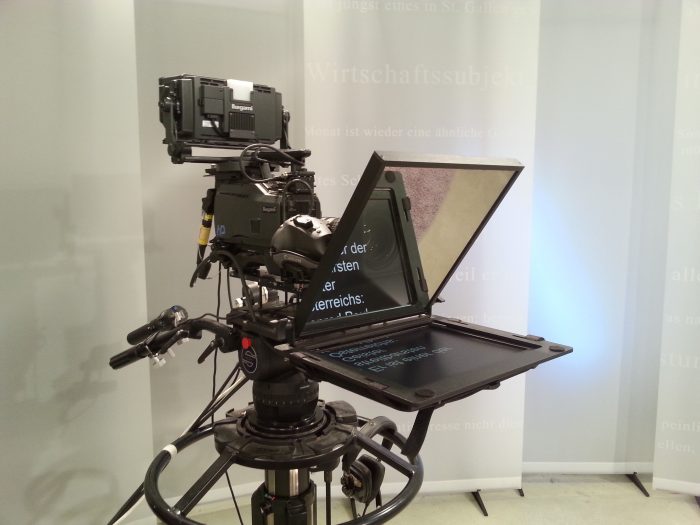 The screen of the promters has a VGA input. If your computer does'nt have a VGA output, no problem. We provide Displayport to VGA and HDMI to VGA adapters. VGA cable lenght is 10 meters. The prompter needs 220V/110V AC.
If you have any more questions, please don't hesitate to contact us!
If you need a operater that helps you during the productions, we'll be glad to assist you on set. Click here!
Teleprompter incl.  notbook, controller and software):
150,- / day for one teleprompter (tax excluded)
250,- /day for two teleprompters (tax excluded)
330,- /day for three teleprompters (tax excluded)
Use your own notebook and software and save 30,- per day.
Click here to get more infos about our operator service!